Gardening is undoubtedly a popular hobby among people. It is known for releasing stress while focusing on your garden and plantations. There involve some precautions when you are pursuing gardening as your leisure time. It would help if you also had all the necessary equipment for your garden. Today we have brought a nine-piece Garden Tools Set by Botana that will be of great use to you.
Botana Garden Tools Set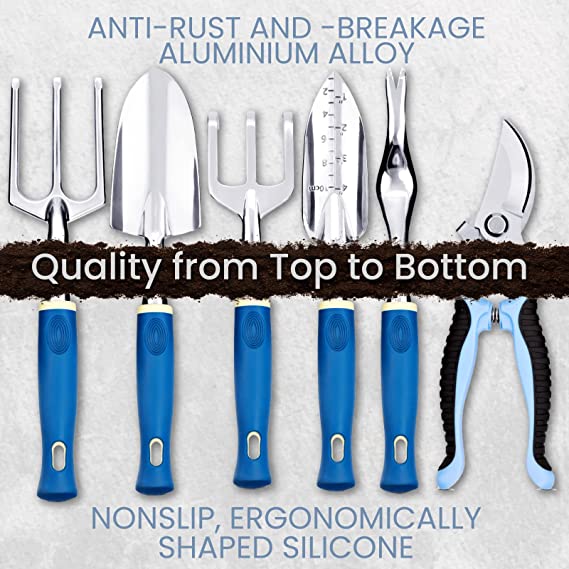 This fabulous garden tools set consists of 9 items: a trowel, a weeder, a transplanting trowel, a hand fork, a hand rake, pruning shears, gardening gloves, knee pads, and gardening gloves. All these items are known to be made up of the most durable materials. If we talk about the set overall, it is the best kit for 8ib9beginners. It has all the necessary tools that you will need to start your mini kitchen garden. 
You don't have to scramble for your gardening tools whenever you want to get your hands into the dirt. You will first need to grab your tool bag from the snack bar, and you will be ready to go. This set features eight high-quality essentials that can all be tucked into one handy tote bag.
There are numerous benefits to choosing this bag, including its double-stitched durability, machine washability, deep pockets (with elastic loops), expansive interior, and waterproof lining.
Take care of your raised beds, herb gardens, or community plots with heavy-duty aluminum alloy tools, construction-grade gloves, and knee pads that attach with hook-and-loop fasteners, which are made of EVA foam.
 Whether an amateur or an avid gardener, we are here to make your gardening dreams come true. Therefore, we use high-quality, durable materials and stylish, cohesive colors to craft our gardening supplies, so they are both elegant and cohesive.
 Having fun and enjoying gardening with these cute and durable hand tools and accessories will make gardening fun, easy, and enjoyable. Every hand tool is constructed from long-lasting aluminum or stainless steel and comes with a soft rubber comfort grip handle to provide a comfortable grip.
Material
600-Denier Oxford Fabric
When talking about the tote gardening bag, you will find six deep exterior pockets, two mesh side pockets, and two loops above each pocket on the back of the toolbag for extra durability. The bag is also equipped with a waterproof lining, a strong handle, and two elastic loops above each pocket, so you can easily carry it.
Aluminium Alloy and Silicone
Talking about our next item in the kit, the tools themself are quite durable. Despite their lightweight and strong design, your hand tools are extremely durable, rust-resistant, and difficult to bend or break. They also have ergonomic, non-slip, and contoured handles that reduce the strain that hand and wrist experience by providing a comfortable grip.
Ethylene-Vinyl-Acetate Foam
A knee pad is one of the essential items in our Garden Tools Set. With the help of your knee pads, you will be able to kneel in comfort. The socks are sized to fit most adults, have a comfortable curve, are attached with hooks and loops, and have small ridges on the outside that provide traction.
Construction-Grade Cotton
Gardening is incomplete without good-quality hand gloves. It doesn't matter how many pokey sticks or prickly thorns you see; nothing will stand in the way. Regardless of gender or size, your gardening gloves offer adequate protection for your hands from various situations.
Why Should You Buy It?
You can use the Garden Tools Set as best as you can.
Effortless cleaning
Not only does your tote bag have a pocket to keep tools in (keeping the interior clean), but your bag and gloves can also be washed in the washing machine using the included instructions.
An Awe-Inspiring Gift
Is there something you would like to give the gardener, but you are unsure what to get them? You can give your loved ones the best tools for outdoor endeavours with a botana garden tool set.
Shears like no other
Pruning shears have never been so easy to use. Yours are truly revolutionary. It has been designed with specially treated steel blades, spring technologies, and safety catches to minimise application effort and maximise security.
Benefits Of Botana Garden Tools Set
Time-saving 
I believe that you should think about how a shovel would benefit the process of growing small and delicate plants when using tools like a shovel. Rather than uprooting pesky weeds, it is a more suitable way to do it. While such devices will not be used regularly, they are incredibly useful when working in earthy areas and can help drastically save time by allowing you to work more efficiently. Several garden tools will enhance a gardener's productivity while performing garden activities. You should consider the right kind of garden tools if you are a garden enthusiast to be more productive and save significant time if you are a garden enthusiast.
Transportable 
You will need a bag when you want to transfer large items from one place to another, and your yard is long. In the garden, it is convenient and helps transfer plants with ease. Consequently, less manpower is required and less time in transportation. Also, you don't need to carry anything since it appears to have ample space for all the tools. Plants can easily be transported from one place to another with the help of garden tools designed for portability.
Bottom Line
In the long run, you'll save time and money using these simple gardening tools instead of expensive ones. A vegetable garden that has been organically grown will also help you grow healthier plants in your garden. Even if you do not find anything new in your garden, you might discover a new world altogether! For more reviews check our website!