If you have limited space or gardening skills, you can watch your plants, flowers, and vegetables grow from scratch with an above-ground planter box.
One of the main advantages of a planter box is that it allows you to have a garden in a small area or use it as decoration in a smaller yard or patio.
Below is an Outland Living Vertical Garden review that could help you select the best for your garden; let's talk more about it.
Benefits of an Above-Ground Planter Box
A planter box above ground is one of the best ways for new gardeners to start growing plants since it is small enough to fit anywhere without taking up much space.
Additionally, you can grow flowers and vegetables without maintaining a garden.
Having densely planted plants will reduce the chance of weeds growing. Also, you can easily cover garden boxes with protective covers to keep predators out, which makes them easier to manage for pest control.
An above-ground box can also benefit plants in terms of a healthier environment. One reason for elevated boxes is that they allow easier drainage.
Rather than hoping that your plants will thrive in your backyard dirt, you can mix your soil for them. After reading the Outland Living Vertical Garden review, you will get more ideas about the above garden planter box.
Negatives of an Above-Ground Planter Box
Above-ground planters are advantageous, but they also have some disadvantages that must be considered.
There is another problem besides the cost. Unlike a typical garden, where you only need soil in your yard, you will also have to purchase an above-ground planter and a drip irrigation system.
As your above-ground box may not receive enough moisture from nature to keep the soil moist, you may need to water it more than you would with a standard garden. Maintaining a garden, however, is an essential part of garden ownership.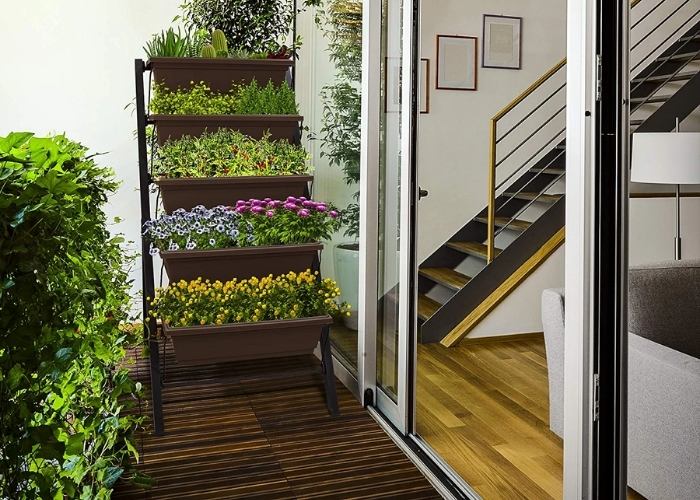 You can customize the size or shape of your raised garden bed by slipping plastic boards into the side slats of Outland Living Vertical Garden. More than 330 Amazon reviews give the blocks an average rating of 4.6 stars. Read the Outland Living Vertical Garden review below to know more:
Perfect space solution & easy assembly
Following the instructions, you can quickly assemble your garden planters without power tools. Plants of all kinds can be grown in one of the 22″ hanging plastic boxes, including herbs, seeds, flowers, succulents, and vegetables.
Food-grade plant bins
Plastic bins are made from 100% new Polypropylene material (PP) and are food safe, so you can grow whatever you want without worrying about unsafe materials.
Aesthetically pleasant, modern design
It is recommended that you consider this product if you suffer from hip or back pain that inhibits your ability to garden. A farmhouse garden is now easier to maintain, especially if you are a senior. You can quickly transform your deck, patio, or backyard into a style you won't find anywhere else!
A sturdy, well-built design
High-quality materials are used to construct this mobile vertical garden bed to ensure stability when combining soil, water, and plants. Vertical gardens are suitable for indoor and outdoor use thanks to the weather resistance of freestanding frames and planters.
Choosing Raised Planter Boxes/Raised Beds
You should keep these characteristics in mind when selecting an elevated raised bed.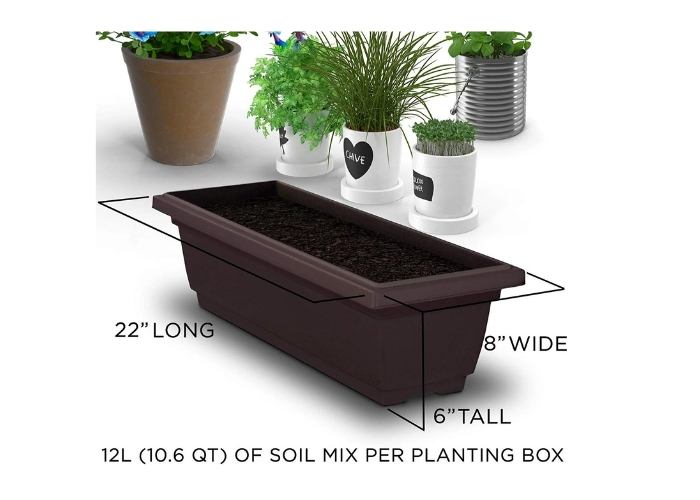 Material
The most crucial thing to look for in a planter is that it has drainage and is made of long-lasting materials. In the Outland Living Vertical Garden review above and below, the boards are made from naturally rot-resistant cedar, and the legs are made of sturdy, rust-proof aluminum. A load of soil or plant material can be supported by its legs for hundreds of pounds to weather many seasons without issues. Even the color and size of the planter boxes can be customized.
Safe
Ensure the raised planter box you are using to grow food is safe. Plastic, harmful paints, stains, and chemically preserved wood should not be present if you plan to plant edibles.
Size
A planter's size is the next factor to consider. Elevated raised beds will restrict the root growth of your plants. The depth of the planters should allow root crops such as carrots and parsnips, as well as large plants with deep roots such as tomatoes, eggplants, sunflowers, etc.
Height
It is also essential to consider the total height of your elevated raised bed garden. You will tire of reaching up if it's too tall, but if it's not high enough, the constant bend in your back will immediately send you to the chiropractor.
Maintenance
It is also essential to consider the planter's maintenance requirements. You shouldn't have to complicate your life by gardening in elevated raised beds. It is best to avoid planter boxes that need to be painted or stained annually or that rust, warp, or become brittle with time if you expose them to sunlight for an extended period.
Conclusion
This Outland Living Vertical Garden review aims to allow you to choose the correct planter box for your garden. It is one of the best planter boxes for your garden.
This robust, 100% weather-resistant plastic planter box is ideal for those seeking a unique look for their above-ground planters.
It's easy to assemble and makes both an indoor and outdoor impression. Gardening with this model is easier on your back because of the height and is also guaranteed for life. Read this Outland Living Vertical Garden review and buy it now!
For more gardening accessories reviews, follow kitchenandgardening!
---