Gardeners and landscapers alike can benefit from the beauty of hydrangea flowers. Hydrangeas can be tricky to grow, as anyone who has attempted to do so knows. There is a fine line between soil quality and pH level, and a simple change in pH can cause the petals to change color. You should embrace the challenge as a gardener; this is not meant to scare you!
Before planting them, however, make sure you are aware of a few problems. Don't miss this introduction to hydrangeas if you are considering adding some to your yard! We have listed some of the most common problems with hydrangeas in pots and how to fix them below.
What Is Hydrangeas?
The Greek word "hidror" means water, and "angos" means a vessel, which gives us the name hydrangea. Together, these words mean "water barrel." Originally from North America, hydrangeas are large flowering shrubs. It is estimated that the Hydrangea genus contains 23 species, of which five are common in cultivation in the domestic environment.
Problems with Hydrangeas in Pot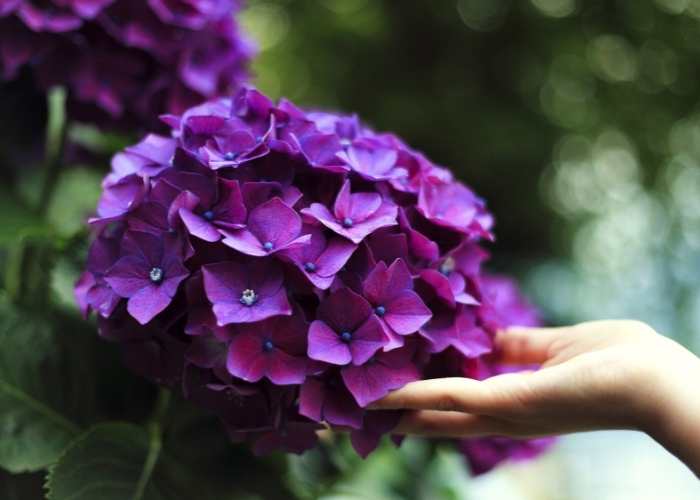 We will examine what you may be up to and our tips on resolving the problem you may be experiencing when growing Hydrangea in Pots.
 Incorrect Pot
A hydrangea that grows well and blossoms well need a pot that is comfortable for it. Here are two facts to keep in mind when choosing a pot:
It is essential that hydrangeas are not overwatered, and small pots dry out very quickly compared to large pots that remain slightly moist.
With their rapid roots, these plants are prone to consuming pots and becoming increasingly sensitive to cold and frost.
Furthermore, the pot's material matters a lot since it could either retain too much water or not. Based on this and the previous two points, you will need to pick an appropriate pot for your hydrangea. Incorrect planting can be another reason for problems with hydrangeas in pots.
Make sure the pot you choose can accommodate the hydrangea plant without tipping over or being too small. Ensure the material won't hold excessive water or dry too quickly. The most suitable pots are made of terracotta or fiberglass. 
If the bottom portion of the soil remains too wet, the roots can rot. Make sure the pot has enough drainage holes before planting. Do not place a water tray beneath the pot.
Lack of Water
Is your Potted Hydrangea Turning Brown? Why is that so? Your hydrangea dislikes wet roots, regardless of its preference for moist soil. If you use a larger pot, you'll have an easier time keeping the soil moist.
Plants can also be kept moist in a window with a south-facing orientation. Afternoons, the plant prefers partial sunlight, while in the mornings, it prefers full sun.
When you are finished watering your hydrangea pot, drain the water. This will prevent the soil from becoming soggy and will keep it moist.
A sad fact about hydrangeas is they often die when they are underwater. Watering your hydrangeas with a drip irrigation kit can minimize water usage.
Lack/Excess of Sunlight
Are there problems with hydrangeas in pots? Are they getting enough light? 
 Especially in flowering plants like hydrangeas, photosynthesis also relies on sunlight. The sun contributes to plant growth, health, and flowering, among other things. 
Unlike most plants, hydrangeas only produce one bloom per year. But it lasts for a very long time! Some varieties with reblooming characteristics will require a lot of sunlight, even during the blooming season. Light plays an essential role in photosynthesis, the process by which food resources are converted into energy. 
Lack of growth 
Hydrangeas are fast-growing and blooming plants that require a lot of nutrients and resources. If grown in pots, hydrangeas require high nutrients from fertilizer or compost. Eventually, pots will run out of soil and nutrients due to their limited amount. 
Pests
Another problem is the sudden appearance of holes in leaves on hydrangeas in pots. Pests are the only source of this problem! Fly larvae most often cause these types of damage. Undersides of leaves are where flies lay their eggs. If you were watering your plants, you would not likely see them here.
Hatching these eggs produces hungry larvae that eat through the leaves and eat them from the inside out! It could be limited when there are problems with hydrangeas in pots.
Make sure you regularly check the underside of the leaves of your plant if you have this problem! A chemical will prevent insect eggs from hatching if you notice anything that may be insect eggs.  
Companion plants can also attract beneficial pests that feed on fly larvae or eggs.
The Best Location For Potted Hydrangeas
Especially suited for fences and walls, climbing hydrangeas can also be grown around trees' trunks. These climbers thrive in the shade in gardens with north or east-facing exposure. They may also struggle in shady soils or if there is a lot of water.
As one of the most popular climbers on the market, it reaches a height of 12 meters and has a spread of more than 4 meters. Hydrangeas can grow up to 1 meter per year under favorable conditions, making them excellent for covering shaded walls.
When the sun is at its strongest during midday, it's generally recommended to protect Shrubby Hydrangeas. There are a few varieties that require some shade, but most can handle full sun. Protecting potted hydrangeas from the midday sun during the summer is important since they are more vulnerable to damage from extreme weather conditions.
Choosing a Right Pot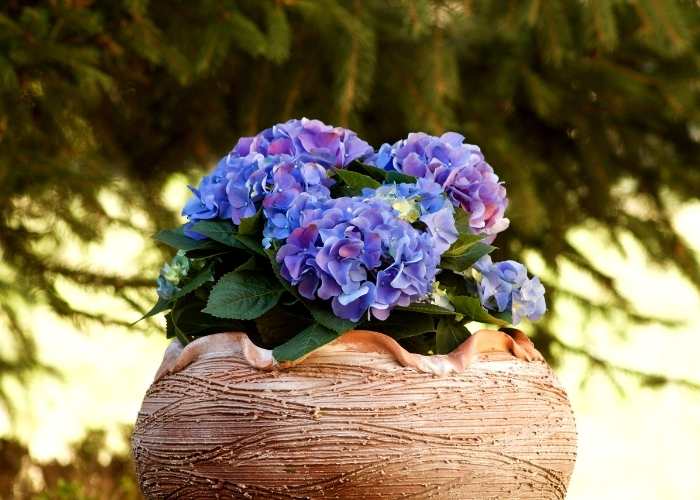 When growing tall hydrangea varieties, use a heavier pot to prevent them from tumbling in the wind. Two reasons make it important to pot up hydrangeas immediately after they are purchased from a retail store:
Moist soil is essential for plants in large pots, whereas dry soil is best for plants in small pots.
The roots of hydrangeas grow quickly, so their root-bound condition will make them more susceptible to damage from winter frosts.
If these things are not followed correctly, there are chances of growing problems with hydrangeas in pots.
How to Fertilize Hydrangeas Properly
To know how to care for hydrangeas, it is important to consider how to fertilize them.  problems with hydrangeas in pots arise when they are not well-fertilized. Consider the following points to make them flourish.
Fertilizer overexposure can easily kill your plants, so follow the instructions on the label.
During the winter, hydrangeas prepare for overwintering. The best time to fertilize your hydrangeas is during the dormant season. Hydrangeas shouldn't be fertilized in the winter.
Compared to hydrangeas grown in the ground, potted hydrangeas require less fertilizer.
Your hydrangeas may be damaged more by overfertilizing than by not fertilizing them.
You don't want to fertilize your plants to the point where they burn and dry out.
Hydrangeas benefit from under-fertilization rather than over-fertilization.
The trunk of the plant should not be fertilized.
You should start with the lowest dose of fertilizer when growing hydrangeas if you are just starting out.
Generally, if flowering is not very lush, it implies that the fertilizer dose is inadequate; you can gradually increase it. So you can devise a fertilizer schedule for your plants based on this information.
A special liquid fertilizer for acidophilic plants must be used weekly while the hydrangea is in bloom. Irrigation water must be diluted according to the manufacturer's instructions. Don't damage its roots by overdoing it. It is also possible to use granular fertilizer.
The hydrangea base can be fertilized with commercial manure or compost each year. When applying manure, keep it away from trunks or stems in the soil, just as it would be if you used chemical fertilizers.
Worm humus provides mineral nutrients: macronutrients (NPK) and micronutrients (zinc, iron, copper, manganese, boron, etc.) and replaces the application of chemical fertilizers on crops.
The fertilizer sticks for our hydrangeas are a very practical element with good results in growth and flowering, both for growing in pots and outdoors.
Recycle the organic waste from your kitchen with this Compost Bucket. After a few days, homemade compost will form, and you can use it in the garden for your plants.
Final Thoughts
It might seem daunting to grow hydrangeas with all of these potential mistakes, but they are actually quite easy to grow. Preparation is the key to avoiding some of these problems when planting hydrangeas. To eradicate problems with hydrangeas in pots, fulfill all of their needs.  Regular checks and basic care will ensure this prolific blooming shrub becomes a wonderful addition to any garden!
For more gardening tips, follow kitchenandgardening!