The lily is one of the most popular flowers worldwide, and it's easy to see why! In Greek mythology, the lily flower symbolized Hera and symbolized purity and innocence. There are over 90 species of lilies to choose from. A large part of lilies' reputation as one of the world's most beautiful flowers is probably due to this association.
The differences between varieties go beyond their appearance, however. Their location requirements also vary, as do their hardiness levels, which are sometimes higher, sometimes lower. The lilies come in various colours and sizes to suit your garden or container. Colourful lilies fascinate everyone with their vibrant colours. Continue reading to learn about the different types of lilies.
Lilies- An Overview
It's hard to find anything more elegant and fragrant than a garden full of lilies, which bloom during the summer and fall, depending on the variety. You can enjoy their magnificent blooms all year long by including early, middle, and late varieties in your garden. Also, most lilies can easily be incorporated into containers in a formal or naturalistic setting. Additionally, they are cut flowers that can also be used for bouquets.
There are six petals on lilies, and they often resemble trumpets. Several narrow, long, lance-shaped leaves adorn the stem, which is tall and erect. There are many other beautiful colours, such as pink, gold, red, orange, and white.
Asiatic Lily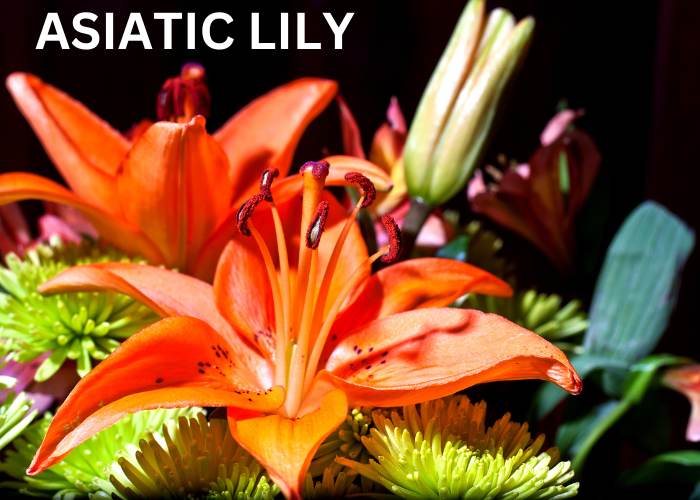 One of the most common types of lilies is Asiatic Lily. Asian hybrids are created by breeding two or more species of lilies together. Petal spots often appear on the petals of these flowers, which often have three to six flowers per stem. Notably, Asiatic lilies don't have a scent, and their flowers are smaller than those of other types. In addition to orange, red, yellow, and creamy white, they come in many different colours. Sadly, deer and rabbits are fond of Asiatic lilies. They have straight, strong stems in full sun that rarely require staking. The Asiatics make excellent cut flowers that last for a long time.
Canada Lily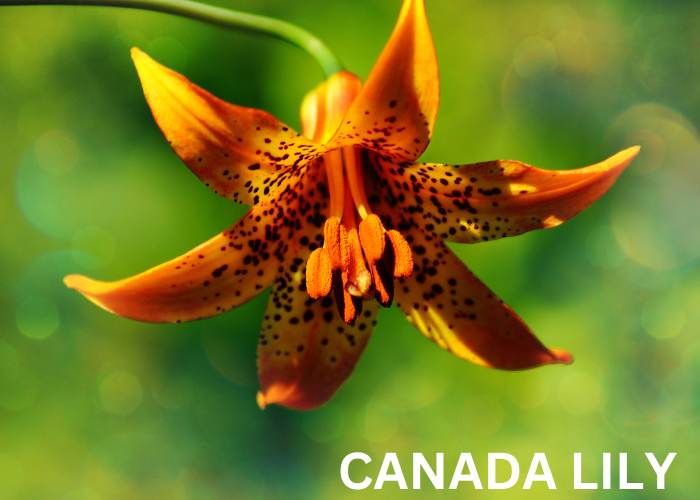 Canada Lilies and Meadow Lilies are also common names for this North American species. L. canadaense has been cultivated for over 400 years, so it's a real oldie!
L. canadense has a stoloniferous bulb, an unusual feature for a lily. In this case, shoots grow from the bulb's base instead of from the top. Growth begins to come to the surface at the ends of these shoots, followed by the formation of new bulbs.
Although canadense is dainty, it is elegant. Spots of orange-brown colour are scattered lightly throughout the yellow bloom's centres.
These lovely lilies are truly cheerful in groups! Those who are just starting with lilies should avoid this variety. The task of getting them to perform can be challenging.
Martagon Lily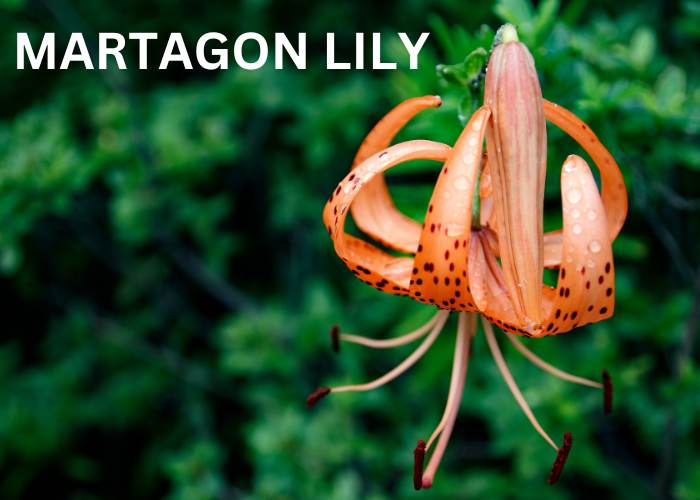 Getting to know Martagon lilies, a subclass of lilies, is fascinating. Instead of facing the sun, they allow more flowers to bloom on the stem by drooping downward. During a given year, these lilies can produce up to 25 blossoms.
A garden would look beautiful with its deep red colours and gold outline. Even though the petals are facing downward, you can see all the colours in this little masterpiece of a flower.
Oriental Lily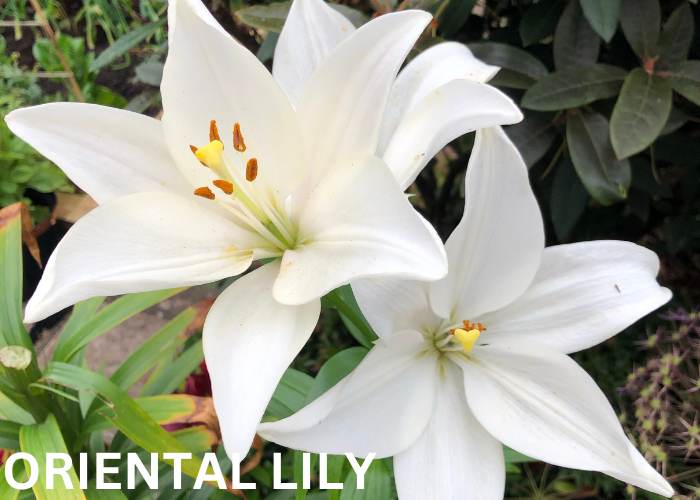 This white oriental lily flowering from late summer to early fall is considered one of the best. 
These flowers are scented, perfect for planting around a seating area or cutting and enjoying inside. As part of your container gardening ideas, they would look great planted together within a mixed border or in larger pots. This type of lily prefers soils with a slight acidity.
Nightrider Lily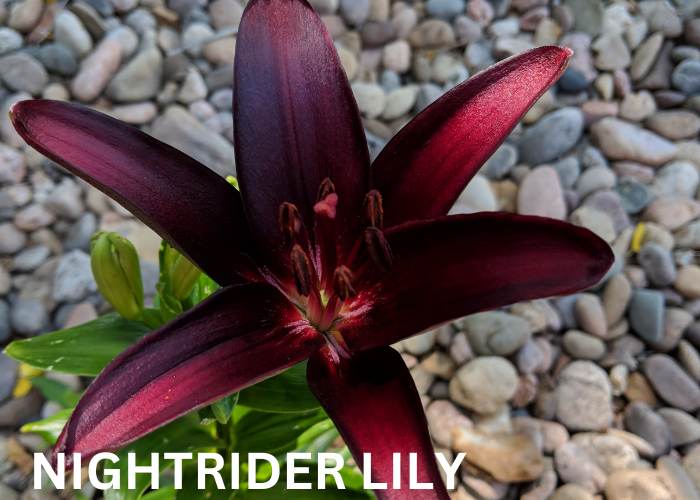 Its intense, glossy, almost black flowers make for a great contrast with hot summer colours, creating a dramatic effect. 
The blooms of this variety last throughout summer, so it looks great paired with dahlias, echinacea, rudbeckia, or another type of lily. This plant is one of the best for small gardens and also works well in pots because of its shorter height than other varieties of lilies. 
Madonna Lily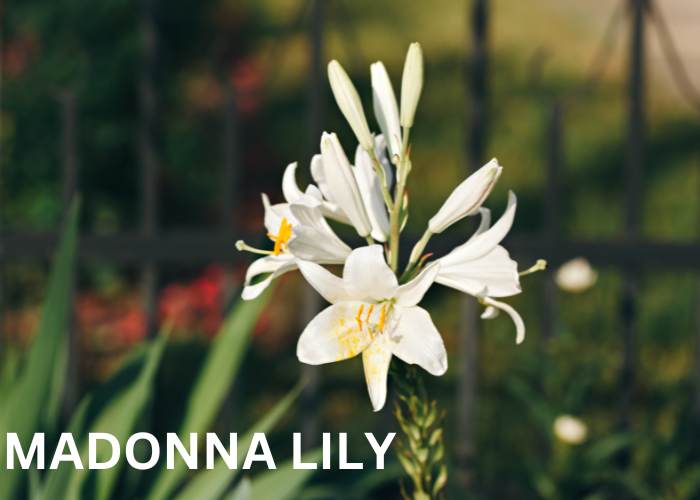 One of the most beautiful types of lilies is Madonna Lily. There is probably no lily species with a more extended history than the classic white Madonna' Lily. The white flowers of this flower have been grown since before Christian times for both show and food!
Your Madonna Lily should not require much attention if she has a sunny position and feet planted in well-drained soil. Lime in the soil won't prevent them from growing well either since this lily doesn't care much about soil PH.
White petals are large, crisp, and wide on this flower, which sometimes has a pale green centre. Sunflower yellow is the colour of the anthers.
Plant your Madonna lily bulbs a little deeper than you usually would if you want the plants to grow well. They can also easily pick up viruses from infected plants if they are planted near other lilies.
Trumpet Lily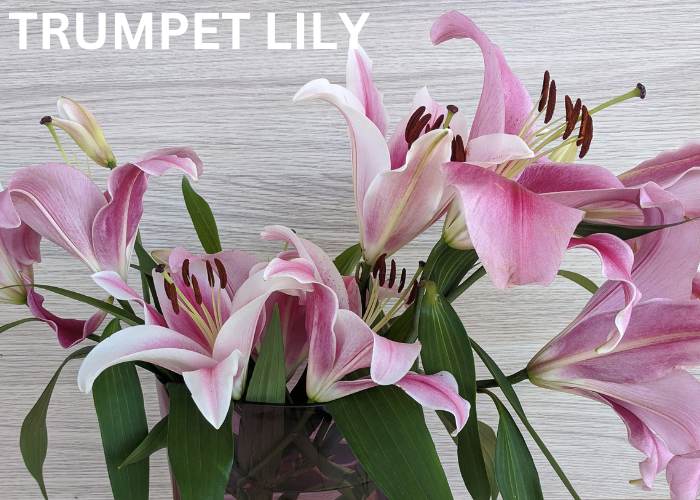 It is best to describe these hybrid lilies as incredible, also known as Aurelian lilies. It produces abundant, trumpet-shaped, and colourful flowers which are highly fragrant and long-lasting. The leaves of their flowers are broad, though not as comprehensive as those of Oriental lilies, which have spots. The number of buds per stem varies among trumpet lily varieties.
There are many colours in which trumpet lilies are available, including white, yellow, orange, cream, and pink, many of which have a star-shaped throat in a contrasting colour. I particularly enjoy the orange variety of trumpet lily, known as 'African Queen'. The plants reached nearly 8 feet in height when I grew them in my first garden. There was an incredible fragrance in the air.
Easter Lily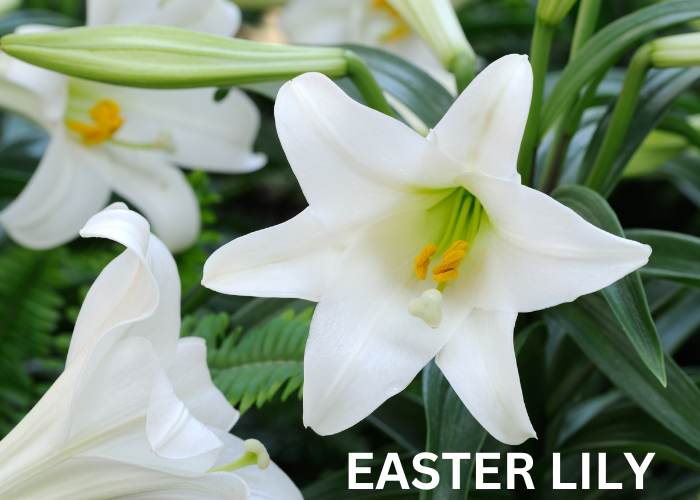 It is almost exclusively sold during the holiday season as a holiday plant or as a Longiflorium lily. Several cultivars of this classic Easter lily are available. The white flowers are trumpet-shaped and have an outward-facing shape. A perfectly timed bloom is achieved by exposing Longiflorium lily bulbs to exact conditions.
From the blooms, a subtle fragrance emanates. The Easter lily is a tough plant that can live at temperatures as low as -20 degrees Fahrenheit, despite its delicate appearance. If you want to try forcing Easter lilies to bloom out of season, you will need a lot of energy. After planting the bulbs into your garden as you would other types of lilies, you'll enjoy their flowers for many seasons.
Planting Different Types Of Lilies
There are many types of lilies, each of which has particular needs. Lilies grow from true bulbs, and they belong to the genus Lilium. Despite having the name "lily" in their common names, daylilies and canna lilies aren't lilies. In addition to growing from tubers, they belong to another plant genus. Scales cover the entire bulb of a true lily. A disk on the bulb's bottom produces the roots and the flower stalk.
There are many locations where you can see lily bulbs. There are probably a few varieties of lilies available at your local garden centre, but you can find your favourite types of lilies online. Planting bulbs in the spring requires the bulbs to be dormant. Lily bulbs should be purchased around the time of your last spring frost and planted as soon as they are ready.
Tips For Growing Lilies
There are several varieties of lilies, and their bloom times differ according to their type. Their growing season lasts from mid-spring to late autumn. In spring or fall, bulbs should be planted around shorter flowers that support their tall, showy stems that can reach two to ten feet tall to support their large, showy blooms that nod down or look upward.
Some varieties of lily can be quickly grown from seed, such as hybrids of the longiflorum group, but others can take up to four years to flower.
There are various varieties; some prefer shade, while others do better in the sun. Some types are more challenging to grow, such as Species and American hybrids.
You do not require to wait for your lilies to bloom in the garden if you have a special event coming up. You can order stunning, elegant lily bouquets any time of the year, anywhere in the world. Lilies add drama to any special occasion with their vibrant colours and delicate shapes.
 For more gardening tips, follow kitchenandgardening!