Decorating Home with Boho Style
Everyone wishes to make their home their haven. You also want a place that is a reflection of your personal style; a place that genuinely screams you. If you enjoy the music and style of musicians like Stevie Nicks, Janis Joplin, and Donna Summer, you might be into a bohemian or a "boho style." When you look up boho plants home décor on Pinterest you will find an abundance of bedrooms decorated with what they call boho plants. There are a couple of things to understand for boho décor plants or a bohemian bedroom with plants.
If you are into a boho or a bohemian decorating style, the first tip is that you need to understand the color pallet of the genre. Rush, yellow, browns, and greens are usually associated with boho style; although there is no hard and fast rule, these are generally the colors we work around. These colors bring out the true boho style. The green color within this pallet usually comes from plants. In this article, you will learn how to select boho plants to help you decorate a bohemian bedroom with plants.
If you have big windows that will allow a lot of light into the room, it is an excellent reason to put some boho plants in your room to add to your decorating vision. Plants cannot thrive without sunlight, so I would stress that if you have a light source, do not miss out on the opportunity of bringing indoor plants to your rooms.
This article will focus mainly on the plants you can very quickly grow indoors in different light conditions.
Selection of boho plants for your home
The philodendron is a popular choice among people interested in hanging plants as part of their boho décor plant collection. The philodendron grows full and green, which helps bring the room's colors together. Adding a plant like a philodendron will help achieve the boho decor look for your room without being too heavy on the pocket. The philodendron is also relatively easy to care for, as long as you have some light coming into your room. A suggestion for decorating your bohemian bedroom with plants would be to place the plant pot in a hanging basket. As the plant grows, the vines drape over the hanging pot creating a beautiful green curtain.
1. Philodendron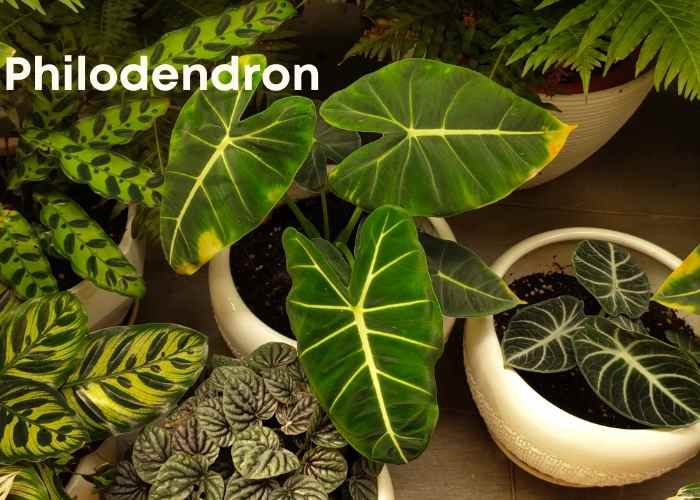 Care for the Philodendron:
Light
You can place the philodendron near a window in your room. The plant stays well in low-light conditions, so you do not need to worry too much about the amount of sun it is getting.
Soil and Water
If you ensure that the plant has good drainage and is watered when required, this plant will surely do well in your room.
Fertilizer
If your philodendron's leaves are getting smaller and the plant's growth has slowed, then that is your cue to add fertilizer to your plant. A suggestion for fertilizing your philodendron in your room would be to add liquid fertilizers instead of solid fertilizers.
Placing the philodendron on a shelf is a good source of color to be added to the shelf. Other than placing them on a high surface from where the plant can drape down, a suggestion we would give for your plant is to hang it close to your window.
2. Golden Pothos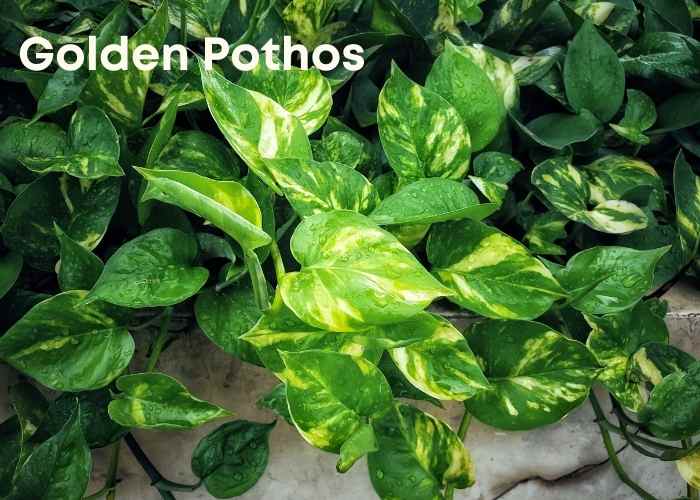 The golden pothos is a good choice among house plant hobbyists. The plant is often the first to think of as a house plant. For many house plant hobbyists, the plant was the first ever they purchased and cared for. These plants are pretty resilient, which makes their popularity justifiable.
Pinterest boards are full of golden pothos hanging in people's dreamy boho rooms. Many like their pothos in pots hanging from the window. But also, increasingly, people have started enjoying having these boho plants grow in water. The golden pothos adds two colors to your home.
The care for this plant is relatively straightforward. The pothos, though a forgiving plant, does best when you give it the TLC that it deserves
Care for the Golden Pothos
Light
The lighting conditions of the pothos are, like most indoor house plants, bright. Like most indoor plants, the pothos can also live on less light. The pothos, however, loses its variegation if it does not get enough light; it is a very normal phenomenon for the plant. The lighter available, the more variation there will be in the leaves, and the less light it receives, the less variegation.
Soil and Water
The plant does not remand too much of the soil you put it in; as long as there's good drainage in the pot, the pothos will do well.
Fertilizers
A suggestion for fertilizer needs would be to add fertilizers when you see the equality and color of the leaves of the plant depreciate.
3. Bird of Paradise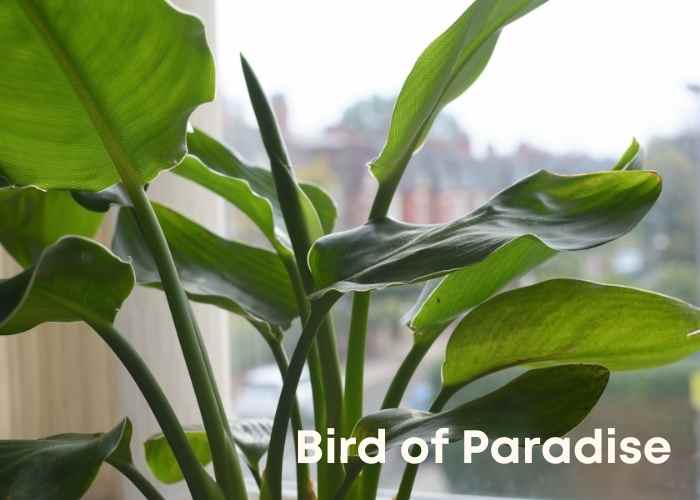 You will undoubtedly find this cult favorite when you look up boho home decor. Everyone would love a plant that adds a jungle-like look to their room. There are two different varieties of the bird of Paradise that we most commonly see. The first variety is Strelitzia reginae; this plant produces a beautiful bloom, but the leave does not grow much bigger.
In contrast, the S. Nicolai is the perfect fit for your room if you want to build on a jungle-like illusion. The bird of Paradise, especially the specie S. Nicolai, is an excellent choice to place in your room to create a boho look. These boho plants' leaves grow very large when provided with the optimal conditions to grow. Overall, we suggest bird of Paradise in rooms that can cater to their needs because the plants add structure, color, and height to your room, giving the rest of your boho decor a final touch with the perfect boho plants.
This plant might be a little more demanding than the others mentioned in this list.
Care for the Bird of Paradise
Light
The bird of Paradise requires a lot more sun than the rest of the plants on this list. The bright light gives this plant the green color and the size that makes it unique.
Soil and water
The bird of Paradise grows from a bulb so, it is resilient when it comes to not getting water, but too much water and poor drainage easily rot the bulbs.
Fertilizer
It is recommended to add fertilizer to your bird of Paradise so it can grow healthier, taller, and larger.
4. Ferns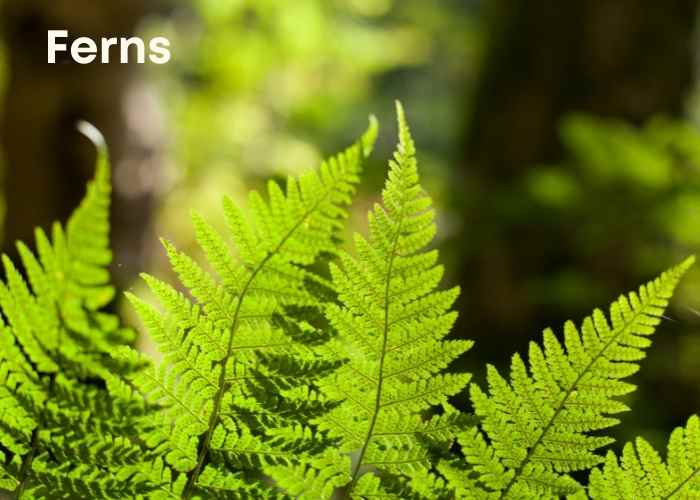 The Boston fern is everyone's bushy-shaggy boho décor plant of everyone's dreams. These beautiful curly leaf boho plants enjoy humidity and medium sunlight. The fern can grow huge, filling up the corners of your room with a beautiful green bushy plant.
Care for the Ferns
Light
This plant gets big and busy when it has exposure to bright indirect light. When the plant is only exposed to sparse light, it can grow thin and leggy, steering away from the whole bushy look. The curly leaves are excellent to add some texture to your home.
Soil and Water
This fern does have some specific requirements when it comes to water and soil conditions. Boston fern enjoys a certain level of moisture in its soil. Note that moisture is ≠ soggy. With good drainage, you will avoid any chances of sogginess, and thus your plant will be protected from root rot.
Fertilizer
The Boston fern is low maintenance when it comes to its nutritional needs. All you will need to do is feed it some liquid fertilizer during the spring and summer growing seasons.
Tips: If you are determined to make your fern flourish, we have some tips to help you raise the humidity levels around the plant to meet all its needs. Whenever you water your plant make sure to spray some water on the leaves of your Boston fern. You can spray water with a spray bottle on most occasions, even when you are not watering your plant. This will help create humidity for your boho plant décor and make it happy.
Boho Decor Plants
Wicker is your best friend if you want to decorate with boho plants. Wicker has the power of taking Cher and turning her into Stevie Nicks- the ultimate boho queen. You can either buy wicker baskets to place your planter in, or you can look into buying plant stands of wicker and cane. With a wicker and cane combination, you will effortlessly create a bohemian environment in your room. On the plus side, all plants look good in wicker accessories, so you have a win-win situation.
Another accessory in your bedroom that will help tie up your boho decorating style is an ethnic carpet. You might also consider buying rugs with ethnic designs on them, although few rugs can be expensive, so our suggestion would be to keep a lookout for these carpets in yard sales or thrift stores.
Another best friend of boho plant decor is macramé. Macramé is a beautiful addition to a room full of plants. The macramé designs can hold your hanging plants, or you can hang the macramé design on your wall for the addition of texture through the fabric.
Take Away
Many of us have our unique styles in mind. We spend days and months thinking about how we can best decorate our rooms in such a way that they reflect our personalities. The bohemian decorating style tells a person's style, personality, and likes and dislikes. We believe plants are an excellent way of amping up the way your room looks. Irrespective of your style, we believe different plants may be able to cater to your design needs and add a beautiful touch to your house. The plants and boho decorating accessories are not a must for your boho dreams. The purpose of writing this all was to give you ideas and open your mind to potential ideas for your bohemian bedroom with plants.
So, a key takeaway from this article is never to underestimate the power of an indoor plant in tying your room together. For more decor ideas, follow kitchenandgardening.com.