Want a robust and heavy-duty plant caddy?
Choosing the sturdy one is the best choice you can make! Your heavy plant can easily be transported anywhere with a durable caddy. The task of watering your plants can seem daunting, but it is an important one. Getting a planter caddy can make things easier. You can move your pots around your yard or garden more quickly if you have a place to put them.
We've selected our top pick for the best planters from the many planter caddies available on the market! The article will summarize the most popular and best-reviewed products so you can make an informed choice.
What Is Plant Caddy?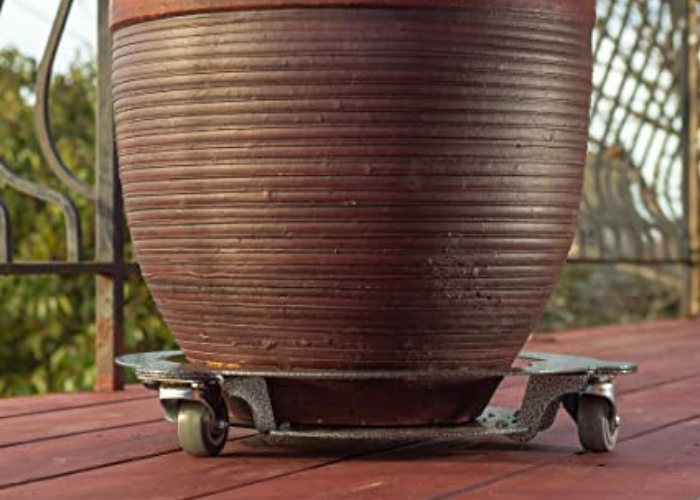 You might have heard your gardener friend talking about a new plant caddy he has brought, which gives him ease in gardening. But you are wondering what a plant caddy is. 
A plant caddy is a platform with wheels which can be used to move plants with ease. It is one of the essential gardening tools which is a must-have for every gardener. If you have a big garden or many plants that need to be moved around frequently, this thing is made for you.
You can save time, money, and effort by using plant caddies, and they'll also help keep your garden healthy and attractive throughout the growing season. Plant caddies can simplify your life, whether you are an expert gardener or a complete novice.
Plant caddies are a gardener's best friend and an excellent addition to any garden. You'll be able to give your cherished plants the care they require while reducing the amount of labour you do by half. They can also add brightness to any space, including your patio or verandah.
Why Do You Need A Plant Caddy?
One commonly asked question is, "Why do you need a plant caddy" or "What is the purpose of a plant caddy?" Well, just like other advanced technologies made to make your life easier, a plant caddy has been made to make gardening easier.
First of all, it allows mobility. You do not have to worry about making multiple trips back to the kitchen, where you put all the flowers and plants. With a plant caddy, you can complete your task in one trip. It will allow you to move flower pots from one place to another quickly.
With the ease of mobility comes saving time and effort. Ultimately, with a heavy-duty plant candy, the time and effort you spend moving heavy pots will be reduced. All you have to do is move the caddy with wheels instead of dragging and damaging a big heavy pot.
Enhancing the heights of the plant is another important function of plant caddy. If you have short plants in your home and want to add a little length to them, adding a plant caddy under them is a great idea. Along with ease of moving, you have got a height adder!
Types Of Plant Caddy
Caddies come in a wide variety of forms and dimensions, but their differences typically stem from how they are used. Here are a few typical types:
Plant Dolly
With its substantial wheels, this caddy is useful for moving pots over varied terrain. They are easy to load and work best for moving larger planters. They're suitable for your yard, garage, or backyard.
Rolling Plant Caddy
They are wheeled caddies, as their name would imply, and their only use is to add wheels underneath your plants or planters. Since they typically have a low profile, they can easily fit beneath the majority of plants. They are also available with locked wheels and in heavy-duty versions.
Standard Plant Caddy
This popular and adaptable plant caddy type is widely used. Their size is ideal for small to medium planters. Due to their portability and ease of maintenance, you can also use them to place small pots inside your house.
Heavy Duty Plant Caddy From Cascade Manufacturing
Nothing lightweight about Cascade Manufacturing's Heavy Duty Plant Caddy collapses after a single season, falls apart as it's wheeled around, or doesn't hold anything more than a small plastic pot. There is no doubt that this caddy is heavy-duty in the truest sense of the phrase. 
You can quickly move giant, heavy planters around your home on this spherical iron planter stand. Even a big flower pot can be transported around your home thanks to the sizeable heavy-duty plant caddy with wheels on the metal caddy base. Plant a tree inside your home using this plant stand with rollers. 
This plant stand has a powder-coated metal material that is weather- and rust-resistant. This caddy's welded iron structure can support heavy pots and other planters.
With its powder-coated steel design, the caddy can handle the weight of large, heavy plant containers up to 450 pounds.
The caddy itself weighs between 12.5 and 22 lbs.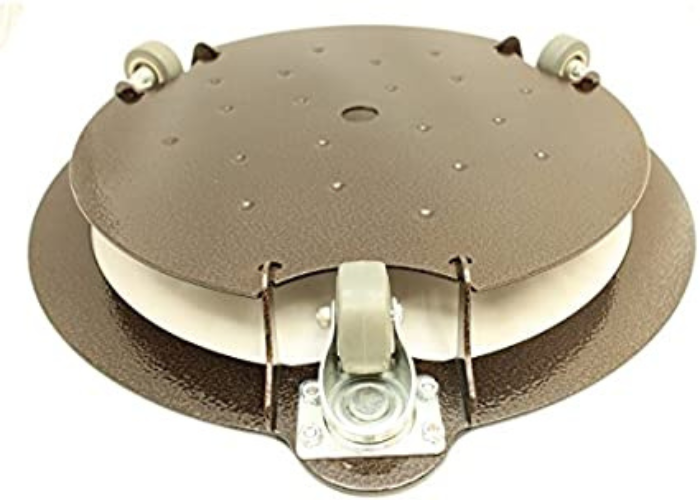 Features
Outdoor Use Rustproof 
This heavy-duty plant caddy roller with wheels base is made of black iron with a powder-coated surface that will enable you to use the garden plant caster with wheels outdoors. The rolling plant stand with a fine black surface will compliment your patio, garden, yard or deck nicely. Plant dolly or plant tray with wheels can be freely moved on the house floor, even on the carpet, soil ground and lawn, and the wheels do not get stuck or locked up.
Weather Resistant
 Plant pot stands made from wood or plastic are inferior to this plant stand with a sturdy steel foundation coated in a premium coating. The pieces of this heavy-duty plant caddy do not rust or corrode if placed outside underexposed conditions and are not subjected to erosion. They are designed to last a lifetime.
Heavy Duty
 This heavy-duty plant caddy is strong enough to hold 450 pounds of heavy plant pots on the square metal dolly. Assembled with solid metal support brackets, the steel base and premium rubber wheels significantly enhance this caddy's loading capacity.
Multiple Sizes
A plant caddy with heavy-duty wheels is available in three sizes: 14, 17 and 22 inches. Typically, the caddy has a distance between its inner and outer rim of five to a half inches.
This heavy-duty plant caddy only has one quibble: its outer rim. Despite their versatility, heavy-duty plant caddies are limited to pots up to 20 inches in diameter due to the edge. The plant dollies of other companies can accommodate the overhanging pots; this one cannot.
When plant pots taper towards the bottom, it can be hard to measure their diameter. Moreover, calculating the caddy size is complicated by the rim. If your planter's base measures 14, 17, or 22 inches across or flares outward, you'll need a larger caddy.
Multi-Purpose
 You can use this heavy-duty plant caddy in your closet if you don't have much storage space. With this caddy, you can stack things in bins and boxes and wheel them into and out of the closet to get to items behind it.
Durable Finish
Both copper vein and black vein powder-coating options are available for the Heavy Duty Plant Caddy. Matte finishes are not standard on caddies.
The coating prevents the heavy-duty plant caddy from rusting, so it's suitable for outdoor use all year round. If you hit it hard enough, you can nick, dent, or scratch the finish, despite its toughness. Pots that are heavy and move around can also grind or wear the floor of a caddy.
Choosing Best Plant Caddies 
So many nature lovers are passionate about plants. This group loves potted plants and bedding plants. There is something we all enjoy about having plants growing on our verandas and patios. This is not an easy task, even though it is possible to move the heavy pots around the house. You can move these heavy pots around your home using a heavy-duty plant caddy. Here are a few tips to help you choose the right planter caddy.
Considerations When Purchasing a Planter Caddy
Size of Planter Caddy: 
There are various planter caddies, and you need to consider the size of the caddy before making your purchase. It is usually easier to move heavy plant pots with bigger planter caddies. Depending on the plant you plan to grow, you must choose the appropriate caddy. Plants can also extend beyond expectations.
Planter Caddy Shape:
 Buying a caddy requires you to consider its shape as well. It is often the case that specific planter caddy shapes are unsuitable for your space due to their size. Different planter caddies exist, including rectangular, square, oval, and circular.
Weather Resistance: 
A vast open space is likely the best location for your plant pot. There should be an adequate coating on the caddy's overall material and its stand. Planter caddies are then exposed to rain and sunlight, which can have a dramatic effect. Choosing a plant caddy that is weatherproof is a good idea.
Diameter
Considering the diameter of a caddy is essential. If you are buying a caddy, ensure you have the measurements of the pots you will place into the caddy. It will be a good use of money if the caddy is smaller or too big than the actual pots.
 Strength:
 Because of their massive weight, a solid caddy is necessary for some plant pots. Planter caddies should be strong enough to handle the weight of your plant pots.
Reliability:
Durability and reliability are two factors that are closely related to one another. Even though planter caddies are robust and durable, you can use them for many months at a time.
Customer Reviews:
Previous customers can't hold you responsible for things that went wrong, will they? Your service will be more satisfactory if you have higher ratings; however, select products with good reviews if you are a buyer.
Lockable wheels: 
Even though the planter caddy must have wheels, there are times when you want it stationary. Your plant pot shouldn't be in an unattractive place whenever you return home. Locking planter caddies in static positions is standard on most of them.
Drain: 
Some plants won't thrive with too much water in the pot. Many planter caddies have drain holes for letting water drain.
Benefits of Plant Caddies
Moveable
Planter caddies are most helpful in moving plants since they make it easy to move them. A planter caddy makes life much easier for you when lifting heavy pots as you do not have to lift them frequently.
Organizing Space
A planter caddy can be an excellent value for those with limited space because they help us manage our freedom. You can move your plants quickly when there is a gap in the area available.
Planter Caddy for Heavy Plants: What to Look for?
If you have a large number of large plants, relocating them can prove to be a difficult task. Using a wheeled caddy, you can find an efficient and convenient way to carry plants. It is suggested that you place your planters on wheels, so you do not cause scratches on your wooden deck. Daily exposure to the sun can also be beneficial. Moving or rotating your plants will provide them with more balanced light exposure and a healthier environment. 
Whether we're entertaining or cleaning underneath plants, we can use it inside and outside. It is a great way to make your garden and patio more functional and beautiful with a heavy-duty rolling plant caddy. 
Your heavy pots need a plant caddy supporting a large weight capacity. Water and the elements can cause plastic materials to degrade over time. You should select a plant caddy that accommodates the drainage system of your plants' current pots. 
If you choose a caddy that moves effortlessly over uneven terrains, such as rough paver stones, you will save several hours and headaches. In terms of durability and glide, rubber is the best.
Bottom Line
Having a heavy-duty plant caddy can be beneficial for frequent movement. You may feel comfortable when you move plants using cladding instead of dragging the pots and ruining the floor.
We chose the best planter caddies based on these criteria. Is this all there is to it? Of course not! Our website is constantly updated to provide you with the most up-to-date and relevant information.